As we near the end of November, our minds turn to the season of giving, and if you're lucky, receiving. But all this present-giving-and-or-receiving polava at Christmas comes at a cost, and that cost is not just monetary.
Each year, 27,000 miles of wrapping paper is wasted, 1 billion Christmas cards end up in the bin, and 500 tonnes of fairy lights are thrown away.
We need to re-address this balance, and thankfully, there are solutions.
Shop Small.
1 in 10 Christmas presents end up in landfill every year, so shopping small not only means buying from small and/or local businesses with environmentally-friendly and ethical practices, but by dodging the temptation to buy novelty gifts that could be left unused and unwanted. Alas, here are a couple of great small businesses that you can support by buying from this holiday:
The Indy Box – gift boxes filled with hand-picked beauty products, all made by a myriad of great sustainable, independent businesses
Bobbles Bobbins – recycled vintage silk headbands, scrunchies and Christmas stockings and bunting
Joonipa Loop – cute handmade crochet bags of all different colours, a wonderful Christmas treat
Shop Sustainable or Second-Hand.
Alternatively, you can always check out our Livetree Certified Companies, Patagonia, Kattumarum and Bav Tailor, to name just a few. And, who better to take advice from than Sustainable Elle? In her recent Instagram post, she inspired us all to shop second-hand this year.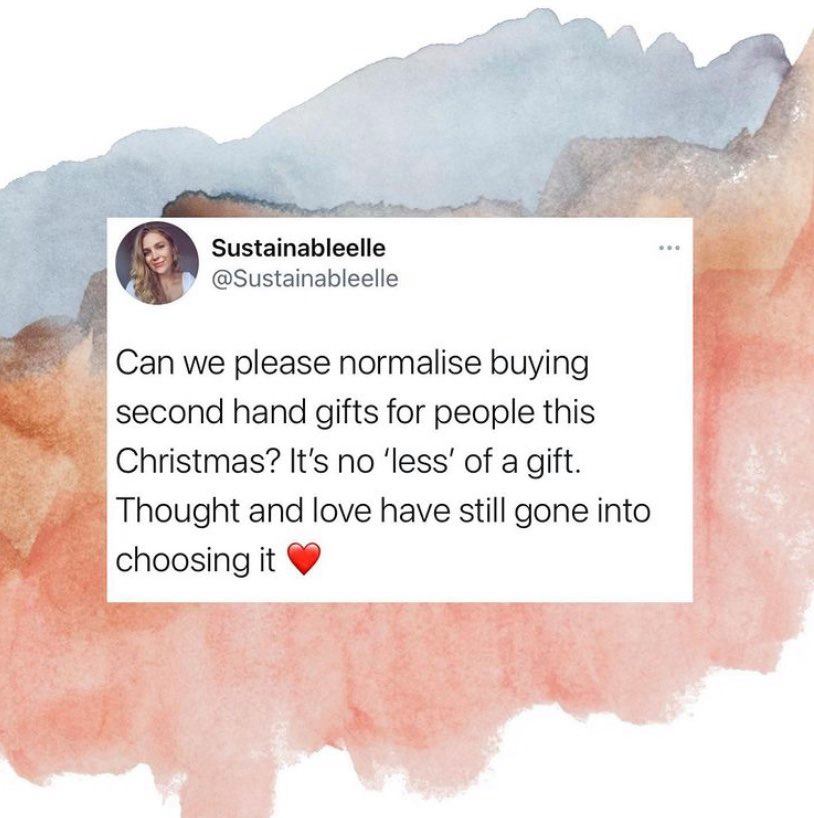 Think Smart.
The amount of wrapping paper used to wrap Christmas presents is enough to go around the earth 9 times! My Goodness! At first glance, using wrapping paper may seem unavoidable – part of the Christmas fun is unwrapping gifts, popping bubble wrap and so on, but there are so many equally (if not, almost) as fun alternatives. One of these is a Japanese wrapping technique named Furoshiki, which uses fabric – sort of like Origami but without the paper. This means, you can reduce your Christmas waste by using second-hand fabrics you find in charity shops or lying around the house.
Think Bright.
As aforementioned, 500 tonnes of fairy lights are thrown away each year. In the spirit of sustainability, why not invest in some LED lights which will last you? They save you money on your home energy bill, and reduce the amount of energy you're using. This smoothly leads me onto our other grand idea – turn your thermostat down by just 1 degree and you could reduce your energy bill by over 10% in a year. Now that's economically and environmentally savvy!
Think Food (For Thought).
The facts are all coming out today, and here's another one – the equivalent of 2 million turkeys end up in the bin each year at Christmas. The solution to this is self-explanatory – stop buying so much grub! In all seriousness, the idea of having food waste at Christmas, or in fact any other time of year, has been normalised, but how about having leftovers? Resisting the temptation to over-buy even when all the shiny sale signs seem to dazzle? Pre-planning meals so you can assess the right answer to the age-old question – to buy or not to buy? If you do find yourself with leftovers this Christmas, we recommend using airtight containers, like the ones available at the Package Free Shop, which will keep your food as good as new.
Be Kind.
The traditional spirit of Christmas, and the Holiday Season, is to the return to the simplicity of giving. Over the years, that sentiment has been lost, and the adverse effect created by our society's appetite to consume has dominated. It has come at a cost that not only slashes our pockets but threatens the future of our planet. This Christmas, let's save our future by going back in time, to the true meaning of the holiday.