Founded in 2015, Livetree was originally dedicated to Aaron Swartz.
He shared many of our values and founding beliefs around data democracy and community.
Ashley Turing, Livetree CEO is an investor and entrepreneur with a diverse background and over twenty years' experience in technology innovation. Having spent some time studying computer science in Seattle, he has gone on to work for a number of top companies which include the likes of Microsoft. Ashley founded Livetree as a sustainable funding model for film and TV. He is a specialist on blockchain intellectual property rights management and is a featured speaker at various conferences around the globe.
Livetree is the next generation of video distribution and the world's first funding and distribution platform solely dedicated to film and TV.  It is an open platform that re-imagines how you watch, interact and share content. We provide something that is missing from the entertainment industry:  our mission is to truly engage people through storytelling and deliver meaningful content through people you trust.
Starting out as a rewards-based crowdfunding company, Livetree uses stories centred around sustainability and social change to connect us and form positive communities. Crowdfunded items are available on Livetree today.
The film industry is inconsistent, its contracts are opaque, and a lot of the content seems to lack direction. Livetree has created a transparent, decentralised system, and produces content that has a clear sense of direction in prompting people to make a positive social change.
Rooms 
You have the opportunity to directly interact and engage with like-minded people through Rooms- genre specific areas on the platform where content is specifically selected. You can create your own room with all your personal favourites in one place, to share stories that you love and build a community that cares. Check out our 'No Poverty' room here. 

Data and Seed Tokens 
We are also transforming the way your data is used. Our blockchain technologies aim to decentralize the internet business model and bring you a seamless interactive experience. Livetree protects user data, is transparent with its stats and will give back a fair share of royalties and earnings to the creators and backers of the content.
We do realise that the industry will not change overnight. Therefore, Livetree has been able to build some key partnerships with some of the leading names in entertainment including: Film Forever, Red Rock Entertainment and Film London. At the core of our platform, we use Seed Tokens (SED) to empower our users.  More coming on that…
Screenings 
Imagine being able to watch with your loved ones or community together at the same time. Screenings enable you to schedule a time to watch together.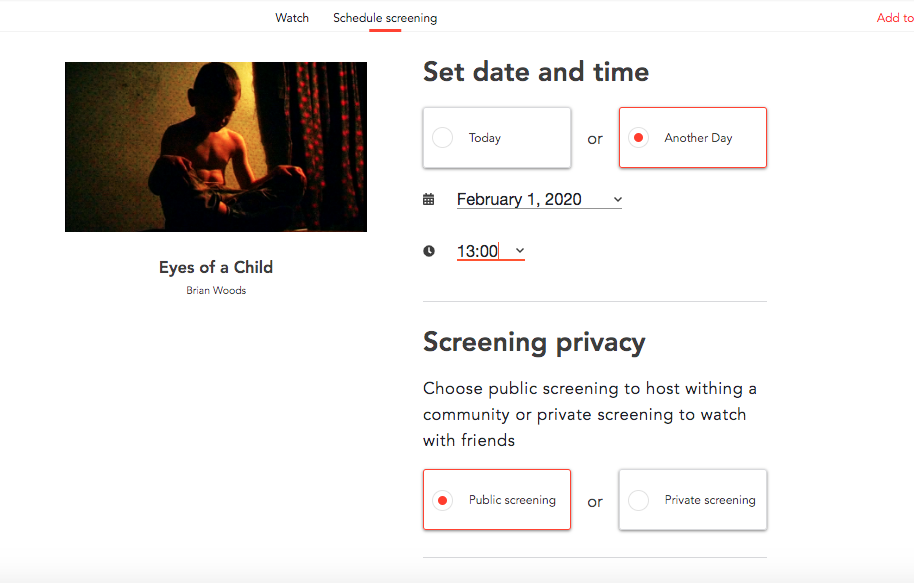 Live Story  
Upload or stream live the story that means something to you. Our editors will select the stories that mean the most to you.  Click here to find out more.
Where in the world
From Russia to the USA to the UK, Livetree is streamed all over the world, with communities in many countries inspired by the films/documentaries to make a positive social change.
Livetree also uses its technology for B2B services, so that you can become more than just a brand and take customer engagement to the next level.
On Livetree, discover the story behind the statistics, watch the documentary and inspire yourself and others to make a positive social change. We encourage you to sit forward and engage. You can make an impact by raising awareness and sharing our Films/TV and Documentaries that will change your world.